Being a mother is the most adventurous period for a girl. Moreover, it's the most awaiting period for an engaged or married women. Now, American model Chanel Iman has disclosed the gender of the babe in her womb.
Model Chanel Iman is the daughter of half American and half Korean mother and Afro- American father. Chanel has revealed the gender of her upcoming babe through her verified Instagram account. Along with the news, she has also posted a picture of her with husband Sterling Shephard.
It was 24 June of 2018 when she posted that image with the caption of "It's a baby girl". Iman shared her happy news with her huge numbers of fan following at this day.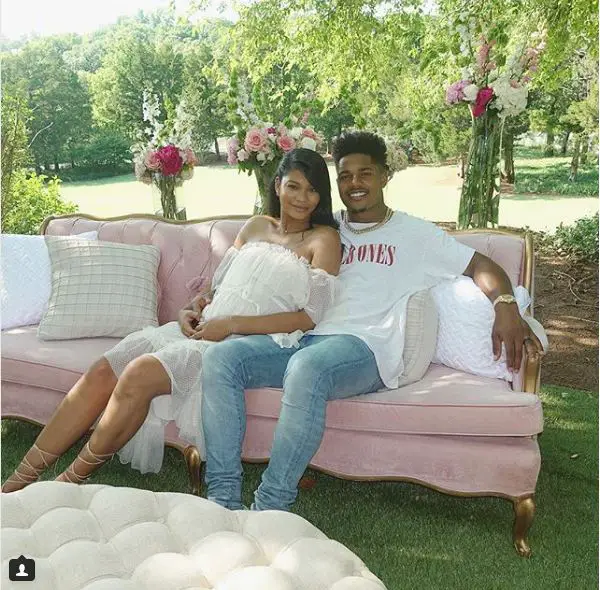 Channel Iman's had announced this news before on 13 May 2018. What a co-incident, it was a mothers day too. Iman is just 27 now and she is going to be mother soon. And, her expression shows that she is eagerly waiting her first baby to born.
Channel's Dating Affair,Marriage And Husband Sterling Shephard.
Iman was rumored to be dating rapper ASAP Rocky at first. They started dating each other in April 2013 and continued that affair for more than a year. However, they came to end their relationship in 2014. Ultimately, they separated on 27 October 2014.
Similarly, there was a gossip about Channel's affair with Lakers player Jordan Clarkson too. But, this rumor did not long last. They cut off their short relationship after a lot of cheating rumors.
After all, American model Channel first met NFL player Sterling Shepherd In the month of November, 2016. They first met each other at the birthday party of Victor's Cruz. Sterling bough Chanel a drink and they start dating later. After being in relationship more than a year, they finally got engaged in December of 2017.
So, the lovebirds got married on 3 March 2018 at Beverly Hills Hotel. Many of their friends, and well known guests like Chrissy Teigen, Gabrielle Union, Odell Beckham Jr., Jourdan Dunn were involved in their sacred ceremony. Moreover, there was a presence of their family members too. And now, she is pregnant with her husband.
We wish her a safe delivery and healthy babe.
Stay with us to get more information about Chanel Iman, her relationship and upcoming babe.