Biography of Choi Min-ho
Choi Min-ho, better known as 'Minho' is a popular South Korean singer-rapper, actor, presenter, and model. He earned international fame as a member of the boy band 'Shinee' under the label SM Entertainment. He is the main rapper as well as vocalist & visual of the group. In addition to this, he is recognized amongst Korean industry as the successful musician & actor with distinctive style and numerous other exceptional abilities. He is musically active as main rapper & vocalist of Shinee as well as solo artist & a popular actor.
Childhood, Education & Early Life
Choi Min-ho was born in Incheon, South Korea on December 9th, 1991, as the youngest son in his family. He kept his childhood and family private from the public. His father, Choi Yun-Kyum is a South Korean Football manager. Likewise, Min-ho has a loving relationship with his family and has an older brother named Choi Minseok.
Choi Min-ho was interested in soccer from young age. Eventually, he became fascinated by music and his passion made him pursue his career in show-business. About his educational background, he attended Konkuk University's affiliated High School. Later on, he attended the 'Konkuk University' majoring in arts and culture film and graduated in 2010. Min-ho was named Honorary Ambassador of the University in the same year.
Career
Choi Min-ho debuted as model in 2006. Later on, he was scouted by SM Entertainment and debuted as lead vocalist & main dancer of 5-member boy group Shinee on May 25, 2008. Eventually, he also on appeared in various TV shows namely I dol Army (2008), Star King (2008 2011), Strong Heart (2009 2012),Dream Team (2009 2012), Infinite Challenge (2010) , Gag Concert (2011), Music Bank (2011), Running Man (2012), Show! Music Core (2013 2015), Cool Kiz on the Block (2014), 1 vs 100 (2015), SNL Korea (2015), Non Summit (2015), Happy together (2016), Section TV (2016), Weekly Entertainment (2016), etc.
Furthermore, he debuted as an actor in 2008 and has worked on several TV series  such as My precious Child (2008), Pianist (2010), Salamander Guru (2012), To the Beautiful You (2012), Medical Top Team (2013), Because It's The first Time (2015), Mrs.Cop (2016), Hwarang : The Beginning (2016), The Most Beautiful Goodbye (2017). Similarly, he has also worked  in films namely 'I AM' (2012), 'SMTOWN the Stage' (2015),  'Grandmother Gye choon' (2015), & 'Derailed' (2016).
Besides music, he has endorsed several popular brands and has actively participated in advertisements as well as modeling campaigns.
Awards
Choi Min-ho has received praise for his artistic work and involvement in the creation of his music and acting. He received several awards during his mega successful career such as the SBS Entertainment Awards (2010), Honorary Ambassador for Youth 2011 (2011), Best Male Idol as Model (2011), SBS Drama Awards (2012), & MBC Entertainment Awards (2014, 2015). Min-ho also won the 'Special Award' at the 'Indonesian Television Awards' (2017) and several others.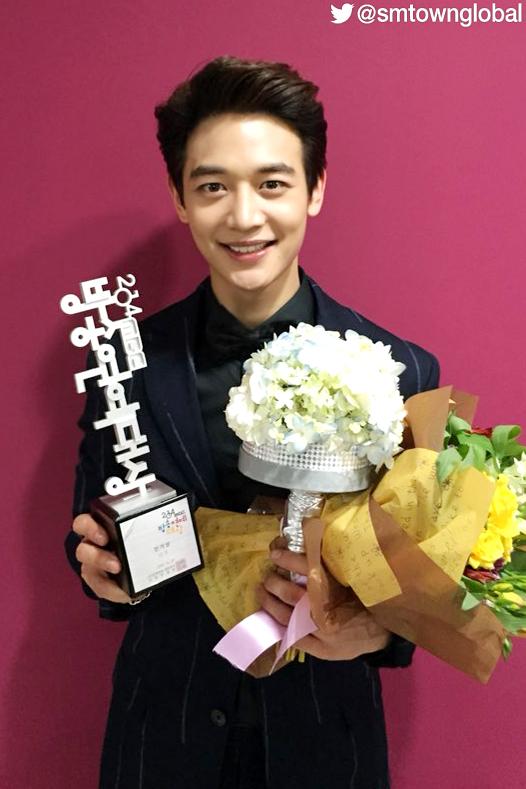 Net Worth
The estimated net worth of Choi Min-ho is around $3 million from his professional career.
Overview
Name: Choi Min-ho
Others Name:
Birthday: December 9th, 1991
Sun Sign: Sagittarius
Height: 6'0″ (183 cm)
Birthplace: Incheon, South Korea
Nationality: Korean
Famous As: Singer, Rapper, Presenter, Model, & Actor
Labels: SM Entertainment
Siblings: Choi Minseok
Years Active: 2006- present
CV Read More

Lee Tae-min Biography